Today's class leads to a change in the pecking order for my dogs. We have decided to have Dynamite work the tracks first and then run Dixie shortly afterwards. This is being done to help both dogs. From Dynamite's side it should give her a fresh and aged scented track. So she will be working with less scent, but also not have Dixie's cross tracks. This will also be her and my first time working on a longline.
I do not think the track itself will be hard for her but it will be interesting to see if she tries to take advantage of the longline and start just playing around.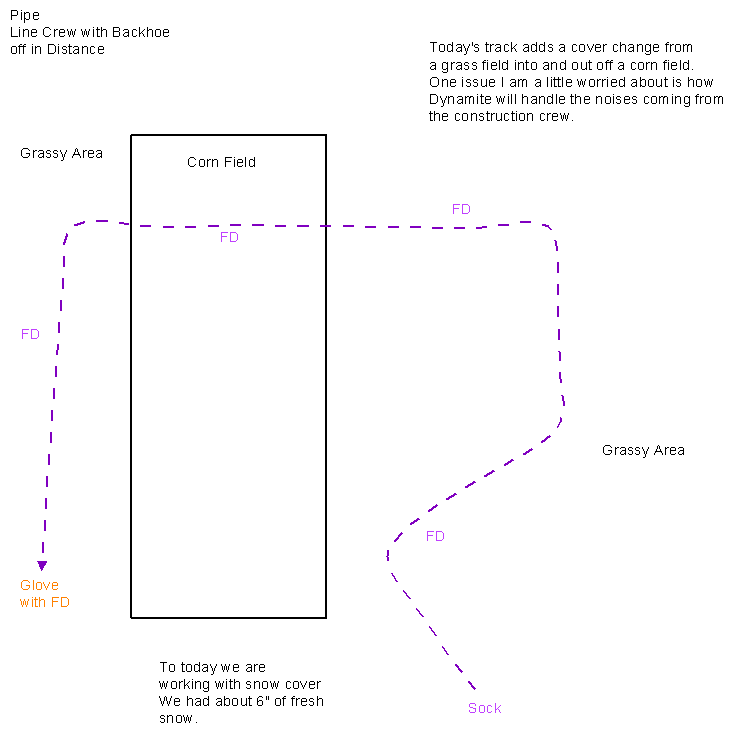 Dynamite was startled by some of the other handlers as we approached the track. This got her barking and a little worried. This is good though because it is something she will need to get use to. Once we got to the track she started off all business like normal, however as we approached the first turn and crested the top of a knoll she could hear and see the construction crew off in the distance. That got her back to barking and she really lost all focus on the track. She made several big circles, challenging my new leash handling skills and forcing both Dawn and I to work to avoid getting tangled up by her  Dynamite then did some rolling around and some other playing before remembering what she had been doing and going back to the track. She found that first turn and the food drop that went with it. It was a good placement for the food since it really rewarded her for going back to work. Her next two turns were classic dead on turns for her and she rushed right into the corn field. Part way through the field she seemed to head off briefly on a cross track but then recovered and finished up the track without any problems. Again after getting rewarded and celebrating at the glove she finished the morning by tracking the way back to the cars.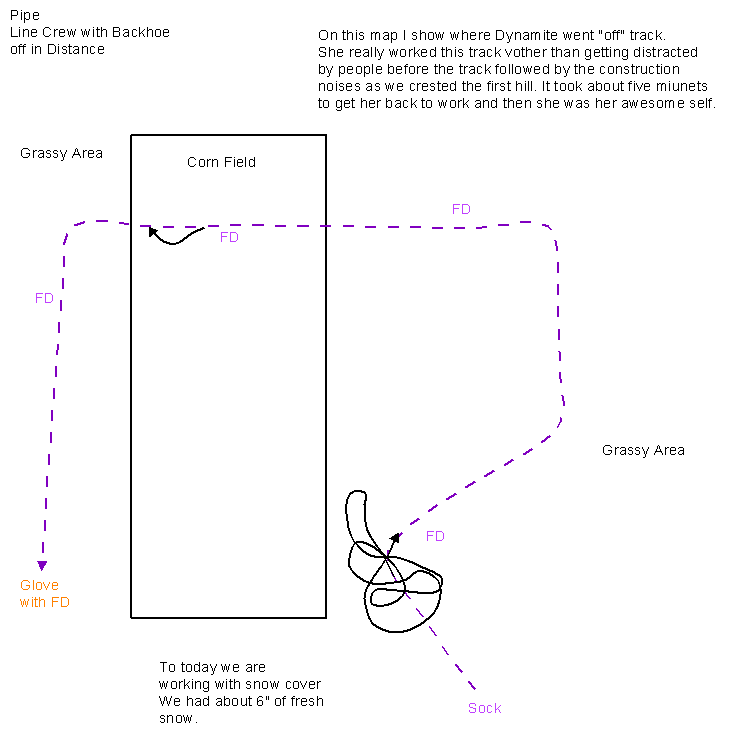 It was different, but good, to see Dynamite get distracted and then recover. So far she had been so solid with everything will tracking it is nice to know that if she runs into trouble she can work her way past it. She does not seem to have any problem with the tracking itself it will be all the other things that can get her in trouble. I am going to start trying to socialize her and take her with often so she can get use to dealing with all those things.
Happy Tracking!