The drive up to New York was very long. Disco and I arrived at the trial site at 6 pm. The site is awesome, you can find information about it at "high goal farm" I was surprised at how few people were there for the run throughs. They had two courses set up, one that was an advance course and another that was much easier. I decided that neither course was appropriate for Disco so I will make up my own course.
Disco was very pumped after the long drive up. He was also very excited to see a whole new bunch of new dogs and people. He is also hungry as we are a couple of hours past his dinner time. These will also be his first runs on mats.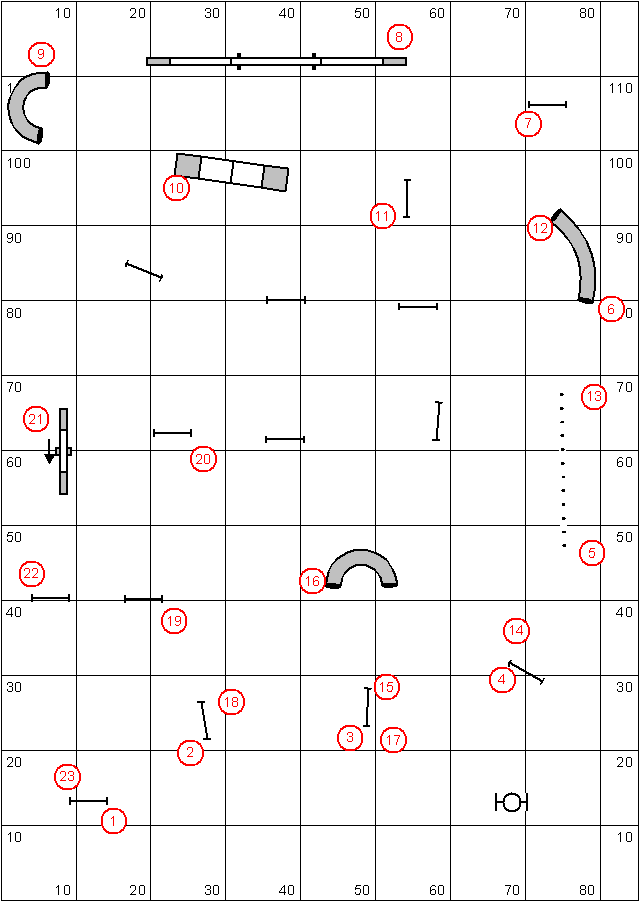 The opening presents a very fast line to the weaves. Because we lack any lead out skills I also had to do a rear cross at the jump prior to the weaves. The tunnel after the weaves adds to the challenge in the weaves and gets the dog back to speed for the dogwalk. The loop back to the weaves just continues to propel the dog at warp speed back to the second weave entry.
We ran twice but had to cut the first run short when disco showed signs of needing a potty trip. He did have some weave problems on the first run but I think they had more to do with the need to poop than lack of skills.

His second run went much better he even did a fairly nice teeter without his hoop or mouse pad. Once all the other dogs had ran I took Disco out and just worked some short sequences with the weaves to teach Disco to settle down and focus on his job. He caught on quickly and started really working well.

Every time I take Disco to class, a trial, or a new site I am learning about him and where our training and bonding time need to be focused. In this case he showed that he can focus pretty well while running in a new place, but we need to work on pre-run issues. We need to figure out our "on the road potty game" to make sure he relieves himself before our runs as he was just too excited to get inside tonight. He needs to learn to quietly watch other dogs running without lunging at the ring and passing dogs. He needs to respect the space of other dogs and people. All of these things simply come from a lack of experience and a lack of any foundation stuff as a puppy. He also needs to gain a lot more control at the start line so I can successful set him up, get him focused on work and get into proper position to start the course. Getting long lead outs at this point is not our first priority but a long term goal. So I guess it is back to some crate games, loose leash walking and some other focus and control exercises.
Now "Go Weave"